REAL ESTATE MARKET WATCH WITH JOEY
8 JUNE 2020
Area real estate sales continue apace despite hurdles thrown up by prudential pandemic-related industry restrictions in force throughout our Main Line market area. Recently revised regulations issued by Governor Wolf have provided welcome relief, opening up the marketplace by permitting in-person showings, inspections, and appraisals of real property under specific conditions: (1) no more than three individuals in the house at a time and (2) submission to the listing agent of a Covid Certification as well as contact tracing information for all attendees at the in-person showing, inspection, or appraisal.
These are very significant steps forward in facilitating the restoration of customary real estate practices and procedures. Pent-up demand in many parts of the country, including ours, has combined with a scarcity of inventory both to boost new home sales and to catalyze bidding wars on alluring resale homes. How is all this happy activity happening? With extreme caution.
During the past months in which customary practices and procedures were disallowed, the region's brokerage companies were intensely improvising new ones that could work in a pandemic. For instance, whereas in 2019 only 3.5% of the nation's buyers bought a home without viewing it, a NAR survey revealed that in one particular week in April 31% of active buyer agents reported that at least one client put a house under contract without physically touring it first. I was one of those agents myself. The technology required to conduct sales virtually has improved so dramatically in such a short period of time that individual virtual showings, virtual open houses with a buyer-friendly "chat" feature (so prospects can send in questions and get them answered right on the spot), and even virtual sales are probably here to stay.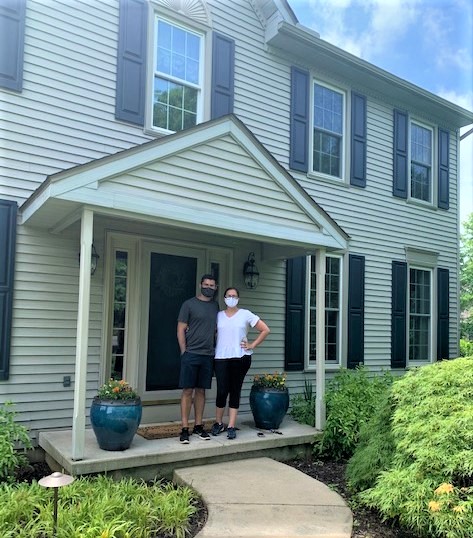 Settlement for a second set of buyer-clients of mine who, owing to SARS-CoV-2, were unable personally to tour their new home until the day of settlement
---
5 MAY 2020
Have you wondered how our local real estate market has been faring after Governor Wolfe categorized Realtors, inspectors, and appraisers as nonessential workers? Owing to the resilience and fast action of industry leaders, it's not been catastrophic—far from it! We're having a pretty good spring market, all things considered.
Here is what Realtors can NO LONGER DO until the Governor says otherwise:
Have in-person office or company meetings
Host in-person public open houses,
Host in-person Realtor open houses,
Personally take buyers into listings to tour their interiors
Allow colleagues to bring buyers into our own listings to tour their interiors
Allow a home inspector physically to inspect a house before listing it for the seller's edification
and use in marketing
Allow a home inspector physically to inspect a house after the listing is under contract for the
buyer's edification and use in negotiations
Get in-person appraisals done
Be at settlements with our buyers
That's off the top of my hat.
Here is what Realtors in Pennsylvania's red zones ARE DOING to compensate:
Conducting office and company meetings remotely via Zoom
Substituting virtual showings of listings for in-person ones for agents and buyers alike
Allowing buyers to have 30-45 days for a physical home inspection instead of the usual 10 days
Adding a COVID ADDENDUM to all sales contracts to allow for extensions if either seller or
buyer encounters an unavoidable Covid-related issue
Helping appraisers for conforming loans with their desktop appraisals
Giving buyers of luxury homes, which require in-person appraisals, extra to obtain a Mortgage
Commitment
Letting buyers go to settlement by themselves, with sellers executing their share of the paperwork
remotely
That too is off the top of my hat.
You might imagine no sane person would buy a house into which he or she had never set foot, but you'd be wrong. SARS CoV-2 has changed real estate norms to this drastic extent already. The secret has proved to be live virtual tours—not by professional videographers, of course, since they too are in lockdown, but by sellers toting an iPhone camera around the house while providing commentary and fielding questions remotely—or else having their listing agents do so. This past Saturday, for example, two buyer-clients and I were on a live Zoom house tour along with 67 other eager agents and prospects. By the next day there were 10 (TEN!) offers.
You might also imagine that no one engaged in a house search would forego a home inspection, especially if a residence was 100 years old and, despite many cosmetic updates, had a proven track record of subsisting problems. Again, you'd be wrong. Buyers of mine lost that particular property to another set of bidders comfortable with purchasing the venerable property sight unseen and not vetted by a home inspector of their own choosing. It's a strange new world.
Personally, I have not been in such a tight, intense market since the Bubble years. My company, Berkshire Hathaway Homes Services Fox & Roach, Realtors reports 500 new listings and 1100 closings just in April. We'll see what happens next month as the pandemic continues its relentless march through our ranks. However, some folks really do have to or want to move, and it is in a Realtor's DNA to desire to help them do so! Therefore, if you or anyone you know wants to explore how to sell and/or buy during a pandemic, give me shout. I'm around.
Stay safe, everyone!
---
19 February 2020
I have interesting news to share. It has been a little over twenty years since our tri-county area (Montgomery, Delaware, and Chester) has embarked on a massive revaluation of home values. Because county-wide reassessments are politically unpopular and wildly expensive, one is usually undertaken only as a result of a lawsuit, followed by a court ruling that current assessments in a particular county are indeed no longer equitable. In the 1990s Montgomery was the first of the three counties to initiate a countywide reassessment. This time it is Delaware.
When a county reassesses all its parcels, it values them at 100% of the then-fair market value. In Delaware County's current case, the fair market value date being used in 1 July 2019. I should note that a countywide reassessment by law must be revenue neutral: it is a mechanism to redistribute the tax burden in the interests of fairness (over time some neighborhoods or types of houses appreciate faster or slower than others), not a way for the county and its townships and school districts to raise revenue.
Homeowners in Delaware County—listen up, all you clients of mine living here!—are being mailed their new assessments as I write. Informal assessment reviews with staff from Tyler Technologies, which has conducted the six-million dollar project, will be available to those who want them from March through mid-May. In June Tyler Technologies will submit the new assessments to the county, which will notify homeowners in July. Thereafter there will be a period in which anyone concerned about his or her assigned value will be able to appeal formally to the county's Tax Assessment Appeals Board.
When our area went through the reassessment process two decades ago, I was still writing my newspaper column. Because the phenomenon was such a novelty, I devoted five or six columns to it. I also looked closely at any number of revaluations of properties in my market area and found them surprisingly sound. Expect a countywide reassessment to result in higher property taxes for one-third of homeowners, lower taxes for another third, and roughly equivalent taxes for the other third